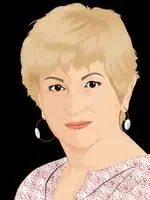 Leslie K. Malin, is a psychotherapist, coach and human development professional with over 30 years of experience as a mentor, consultant, speaker, & entrepreneur whose passion is working with people who want to achieve "more to life".
Leslie has trained, coached, consulted and provided psychotherapy to literally thousands of people and has helped them to expand their vision of what is possible for them. She is the author of, "Cracked Open: Reflections on the Transformative Power of Failure, Fear, & Doubbtco-creator of "Welcome the Light" a Journal/Coloring book and co-author of "The Essential Coaching Book" and the author of the forthcoming series of books, "Meeting Yourself at Work: 4 Pathways to Deeper Meaning and Joy in Your Livelihood".
Leslie has coached professional women for many years. With Ladies Who Launch, she was a facilitator of Intensive Incubator groups in the Hudson Valley. "I adore working with women who are called to create something wonderful in their lives, in their work, and in the broader community."
In her role as the Executive Director of Jewish Family Services of Ulster County she designed and managed Project Hope the first Woman to Woman Mentoring Program in Ulster County that was funded by Hope's Fund, a United Way affiliate. She also designed and ran The Caregiver's Conference along with Ulster County Office of the Aging and oversaw social work services for seniors within the county.
Leslie is constantly re-inventing her life and career. Presently, she works with couples and individuals from young adult - seniors. She has focused. for many years, on working with people 50 years old + who are challenged by the changes they are experiencing in their work, life, and relationships as they age.
Education
Leslie has a B.A. from Vassar College and holds a Masters in Social Work from the Adelphi University School of Social Work in Garden City, NY. She is a member of the Academy of Clinical Social Workers, and holds the specialty certification of Certified Advanced Social Work Case Manager.
License, Certifications & Awards
Leslie is an LCSW-R and is also a member of the Academy of Clinicial Social Workers
Additional Training
She has studies Mindfulness and Rewiring the Brain, Nutrition & Neuroscience, Couple's Therapy and a broad selection of studies in Depression, Anxiety and other mental health disorders
Professional Activities and Memberships
She is a member of NASW and the Academy of Certified Social Workers
Social Media Presence
You can find Leslie on
Facebook/ Leslie Malin;
Twitter: @leslie4success,
Instagram: @lesliemalin, and
LinkedIn: www.linkedin.con/in/lesliemalin